Sales Funnel:
The Product's Ladder
By James Atkinson, LLB
Sales Funnel - The Product's Ladder: Let's say you're a dog trainer and you want to sell a range of products in the dog training market. The product range can be organized in a pre-determined LADDER which is decided after doing product research and keyword research.
Products are ranged into categories. In the image example below:
Free; Beginner; Intermediate; Professional; and Expert.

Of course these categories can be divided in any way that is appropriate for a particular market. Usually this is determined by your survey results. The ladder looks something like this: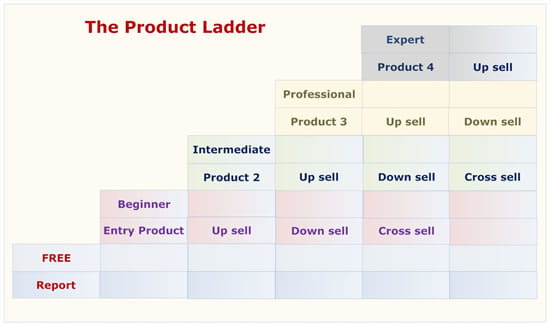 The Product Ladder is predetermined before any marketing is undertaken. This is very important! Many new affiliates go into a market without a product ladder. This leads to disaster because the cost of customer acquisition is very high.
After you set up your product ladder you can always add or delete products.
Merchants will often lose money on the acquisition and if they they have no backend they'll just KEEP losing money! The categories can be ranged in a number of different ways - not just as outlined in the image. Generally however, as you go up the ladder - prices increase.
The price of the "Entry Product" is usually small compared to the eventual "Expert" product. The entry product can be as low as $7 - anything really, given the circumstances of the market. The purpose is to create a customer – or begin a relationship.
Up sells, down sells, and cross sells can be arranged in ANY order given the circumstances of the market or the marketing campaign.
So, continuing with the dog training example:
You may give away a FREE product to obtain an email address in exchange;

Your Entry Product would be something inexpensive to produce – perhaps a "special" tips and tricks video. What you are trying to do is to convert the prospect into a paying customer and to build trust.

The dollar amount is LOW - allowing the customer to "test" you out;

Up sells - often means a more expensive product

Down sells – often means a less expensive product

Cross sells – often means a "related product".

However, in internet marketing parlance, "Up sells", "Down sells", and "Cross sells" appear to be used interchangeably under the rubric "up sells".
Whether you'd offer up sells with your Entry Product, Product 2, Product 3, or Product 4 campaigns depends upon the COSTS of customer acquisition and of a particular campaign.
The point is to have a RANGE of products within a particular market so as to have a few "bites of the cherry" to pay for production, marketing, and advertising costs – and make a profit.
Getting Products
This depends entirely upon your market. For example, in the dog training market it would help if you ARE a dog trainer. But you don't need to be, you could be an affiliate of a dog trainer.
For Products 1 and 2 you could hire a dog trainer at their usual hourly fee – say $40 per hour – to make a series of videos.
For Product 3, you could interview a vet to discuss the psychology of dog training.
For Product 4 you could do a series of videos with a "specialist trainer" (for example, those guys who train animals for movies) or you could organize a specialist dog training seminar.
Up sells can be audios and transcripts of the same material – but produced in a different way.
Internet marketers CREATE products quite easily. You can outsource someone to write a 50 page eBook for around $200. If you are an expert, you can use this as a draft and then put your own spin on the product.
See also Sales Force Automation.

Sales Funnel > Sales Process Back End > The Products Ladder
Return to Internet Marketing Strategies
.................................
Learn about our internet marketing services and cloud-based internet marketing software with integrated marketing, leads, and sales.
---
Free Trial
Get a FREE 30-Day Trial of Persuasionworks