Sales Force Automation
PPC and Sales Automation
By James Atkinson, LLB
Sales Force Automation - PPC and Sales Automation: Sales automation is made easier when you use bidding automation and sell other people's products.
The model below is primarily used by marketers to market what's known in industry jargon as "Other Peoples Products" or OPP. I admit the graph is complex – but please spend some time studying it. I am trying to encapsulate a whole business model on ONE viewable page.
It's a popular online business model using PPC to advertise a large range of products. I've used this model quite successfully and I'd venture to say that many "gurus" expound variations of this model.
The model is expensive but it works. You can use the model to start numerous web sites all within a given market because this PPC marketing business model works well in most markets.
Just remember, a market does NOT need to be a "learned-progression" type but you can segment after conducting a survey.
A good affiliate marketer can discern market segments by conducting superior keyword research of the market - so that in the image below you'd replace "Newbie", "Beginner", "Intermediate", and "Expert" with differentiated keyword segments.
"Buying keywords" are the keywords that people search on when they are ready to BUY. They are very specific searches at the end of the continuum or pathway, e.g. make and model numbers of a particular product or a named specific eBook or eProduct.
"Buying keyowrds" are the most expensive and competitive point of the search continuum. It's very expensive to acquire the customer at this point! By the time people search on a buying keyword, they have already done their research and made up their minds: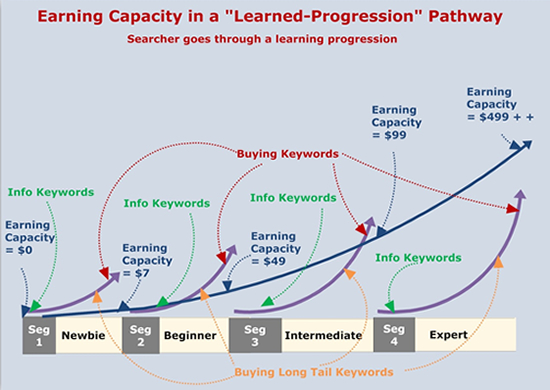 The "Learned Progression" system works as follows:
1. The image is a typical PPC Search Pathway in a "learned-progression" market - currently used by many affiliate marketers & eMerchants.
2. It illustrates a market divided to make money from different segments in a "learned-progression". Here, the market is segmented into: Newbie, Beginner, Intermediate, & Expert.
3. The segments are derived from each marketer's own conception and research of the market – rather than extensive market research. The products sold are derived from such questions as: "What can I sell a Newbie?" Product availability is also a factor in determining what to sell.
4. The blue arrow shows earning capacity or "Lifetime Value" of each customer. The $ shown is notional - it can increase or decrease in different markets.
5. The purple arrows indicate the cost of PPC Keywords within a segment. PPC costs generally increase as you get closer to Buying Keywords.
6. It's cheaper to use Info Keywords to acquire customers and leads.
7. Buying Long Tail Keywords are phrases that contain a product name and are used to acquire customers and leads closer to the buy point. They are generally cheaper than bidding on the Buying Keyword / product name on its own. Please see:
8. Buying Keywords are the most expensive and competitive. They are usually product-specific keywords and often lead direct to a Sales Page. They are generally not used for pure lead generation. Often however, an opt-in form is included on the sales page to try to capture prospects who don't buy.
9. The products you sell include a large range of digital, service, or hard goods but all products are within a loose "market" range - the so-called back-end.
This sort of marketing often comes down to product PRICE – which is NOT what you want to position yourself for!
Just remember, your competitors are also in on the feeding frenzy at the "buying keyword" point. PPC clicks are at their most expensive and there are more advertisers. Google has very specific rules about this so please review the previous article Direct Marketers System.
The free search results are also more competitive with more sites investing in SEO to position themselves for the "money keywords" that immediately convert to sales.
Many affiliate marketers use this system because they just want to focus on MARKETING - and not on product creation or upon customer management. They just want to get the lead, pass it on to the merchant, and then continue marketing for new leads.
For the system to work you need a tight conversion and analytics regime - see Persuasionworks CRM software.

Sales Force Automation > Direct Marketers' System > PPC and Sales Automation > The Direct Marketer's Roadblock >
.................................
Learn about our marketing and analytics services and visit our home page for integrated cloud-based, marketing, leads, and sales software.