Sales Force Automation
The Direct Marketer's System
By James Atkinson, LLB
Sales Force Automation - The Direct Marketer's System: There are many different ways marketing automation can be managed but generally the following image shows how a sales force automation system works.
The image outlines a pretty typical form of direct marketing. Leads come from various sources: for example, paid or via referrers such as JV partners or affiliates. It's rare for affiliates and JV partners to send prospects to opt in forms – but it does happen. Their links often go direct to sales letter - but see the previous article Sales Force Automation.
Most paid lead source costs are up front. That is, you pay whether or not the click converts – and this can be VERY expensive.
Referrer leads usually get paid on conversion - that's how most affiliates are paid. For merchants, affiliate leads are like manna from heaven. Merchants usually ONLY pay on conversion - then the customer is YOURS. Affiliates never really know if they are going to get paid for all subsequent product sales.
With JV partners it all depends on what you have negotiated.
The GREEN arrows indicate the click through route of which the prospect/ customer is aware. Segment list management is important because you need to direct customers to the right marketing campaign.
There is a very strong cost imperative to move the PPC prospect direct from PPC ad to Sales Letter. I believe the most prevalent route with new marketers is: PPC > Sales Letter > Back End Products. I suggest you follow the image for better results.
The GREY arrows show behind the scenes management process that customers don't see. The THICKER arrows indicate the likely marketing route usually designed: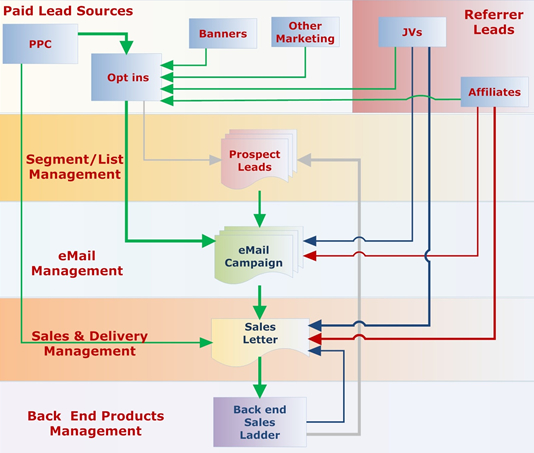 Lead Sources - Obtain leads from a number of sources including: PPC, Banners, Lead Generation Companies, wholesale ads, JV partners, affiliates – any source really that can bring in leads.

If you are going direct from PPC ad > Opt in, I have found that it's best to have keyword specific opt-in forms together with segmentation options. To properly segment you need to conduct a survey: see market segmentation and our service offering: prospect segmentation.
In relation to Google Adwords PPC:

You should familiarize yourself with Google's Adwords policy for affiliates Adwords ads. To obtain a preliminary understanding see:

- What should I know as an affiliate advertiser?

- What is Google's affiliate auction policy?

- Why won't you show multiple ads leading to identical or similar landing pages?

Segmentation and List Management – Manages the various segments the direct marketer has determined. The good marketer must nurture and manage lists very carefully. For example, there is little point in sending Product 2's autoresponder eMail campaign to a customer that has already bought that product. It helps hugely to have an integrated eMail Marker and CRM. Persuasionworks provides this type of business software.

Email Campaign Management – Opt in Form > Sales Letter usually has a conversion rate of around < 1 - 2%. For all my PPC > Opt in marketing, depending on the market, I calculate a conversion rate at 1%. Sales and autoresponder content presented by eMail is therefore very important. A major portion of persuasion can be placed in both the various emails plus the sales letter. The Direct Marketer keeps trying to market to the prospect.

Sales Content, Delivery, & Customer Management – Deliver content via your website and eMail Marketer, plus the eventual sales letter. Persuasion psychology is vital to make the sale.

For automated systems, delivery is usually digital but of course it can be any sort of product delivery. You'll need a good eCommerce Shopping Cart to ensure delivery. The Persuasionworks software includes an integrated eCommerce and shipping delivery system. Customer relations kick in after you have made a sale and so integrated CRM software is vital..

Product Creation / Back end Management- Before you market of course you need to have all your primary and back end products organized.

Most online direct marketing use PPC and so the backend usually means all those products that are sold after the initial cost of acquiring the customer lead. For your own products you deal with your customers personally. For "up sells" of JV partners, the partners usually deal with customers.

Sales Force Automation > Direct Marketers System > PPC Sales Automation >
.................................
Learn about our internet marketing services and cloud-based internet marketing software with integrated marketing, leads, and sales.