...

Every site should have specified goals. Too many websites are set up just because the owners think they 'should' have a web site.
The only way to measure and improve your site's performance is to first define what you want to achieve:
What are you trying to achieve with your web site?
What are the business objectives of your site?
In analytics, a goal is a web site objective, activity, or level of interaction.

When a goal is achieved, it's called a conversion.
If one of your goals is making sales, then every time you make a sale it triggers a 'conversion'.

With GA, you can set specific goals so you can measure how successful your site is at getting visitors to take the actions you want.
Tracking goal conversions lets you see where your site can be improved.

You can also view conversion trends over time to assess the impact of changes you've made to your site and marketing campaigns.
There are two categories of goals (with some overlap):
Revenue

– Activities that generate revenue: buying, requesting a sales call, etc.


Engagement

– Visitor interactions with your site: viewing a certain number of pages, downloading a report, joining your email list, etc.
You can set three types of goals:
URL destination goal

– a page viewed after completing a desired action (e.g. the Thank You page shown after a sale).

Time on site

– a specific amount of time spent on a desired action (e.g. time spent on site)

Number of pages

– a specific number of pages viewed on your site
Here are some examples from GA of site objectives you can measure using goals:
More than three pages viewed


Less than five minutes on site (for some areas of your site, like customer support, less time can be good)
You can also assign a monetary value for non-sales goals. For example:
One of your goals is to get prospects to sign up to download a report


You close an average of 10% of the prospects who download the report


The average transaction value is $100


You would then assign a value of $10 to each report download (10% of $100).
GA will then give you useful information like average per-visitor value and ROI that shows whether your goals are adding to your bottom line.


Goal Reports
GA provides the following goal reports to help you analyse performance: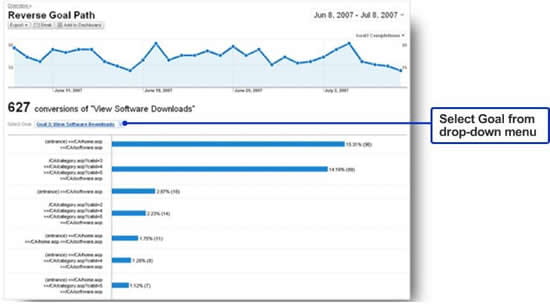 Source: http://services.google.com/analytics/breeze/en/goals/index.html
Total Conversions

– Total goal conversions by day or hour.




Conversion Rate

– The percentage of visits that result in the visitor completing one of your goals.


Reverse Goal Path

– The navigation paths through your site that visitors take to arrive at each of your goals, and the number of conversions from each path.

This is a great way to discover popular paths through your site that lead to conversions. It can also give you ideas about how to improve. The example above shows that the first navigation path drove the most conversions – 96, or 15%.


Goal Value

– The total revenue from goal conversions. Goal Value can be set for sales or non-sales goals.

For example, if 10% of email list signups result in a sale, and the average transaction value is $100, you can assign a Goal Value of $10 to email opt-ins (10% of $100).
My next blog: Defining Funnels in GA
...