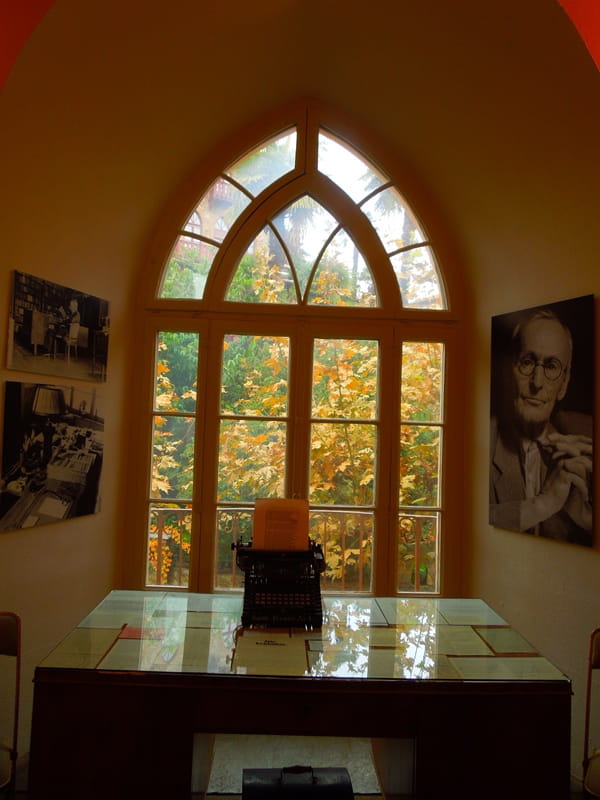 Today's photo is Hermann Hesse's work desk. When I was younger I devoured all of his novels. It's amazing to see where he worked.
......
The predominant way of selling online is a sales process based around a sales letter or a verbal sales pitch. That is, marketers drive traffic to a sales letter / sales pitch at which an attempt to make a sale is made.
However, the typical online sales letter conversion averages between 1 - 2% of visitors. Think about it! This means most online businesses lose nearly 98% of their sales letter visitors - most of them never to return!
I believe a big reason why conversions are so low is because of the cold traffic factor. The traditional sales letter strategy must compensate for the fact that the prospect has never "met" you before. In other words, they are a "cold" customer.
Prospects have natural questions about a seller - such as:

Who are you?

Why should I listen to you?

Why should I believe you?

What are your credentials?

Do you understand me and my needs?

Are you going to give me good value?

Are you going to rip me off?

All of these are trust issues!
Trust is paramount in human interaction and relationships. The earliest humans needed to quickly answer the question: friend or foe? We are hardwired to assess people we newly meet as friendly or threatening, trustworthy or not.
We are constantly scanning for cues whether it is safe to trust or not. The web is a cold, faceless place. It's a low-trust environment!
Building trust online is harder than face to face meetings because we don't have all the face and voice cues, like making eye contact, smiling, firm handshake, and so on.
Thus, the internet being what it is, trust is supremely important for making sales. To earn and maintain trust you must build long-term relationships with your prospects and customers.
The sales persuasion process is one part of this procedure, but without a relationship strategy - persuasion is less effective. It takes time to develop trust. It's no wonder sales letters have such low conversions. Marketers are trying to squeeze a trusting relationship into one sales letter!
Relationships are the "glue" that bond people to you and drive multiple sales. People buy from people. Once they know and trust you, persuasion techniques become easy to apply.
Relationship and trust building essentially performs much of the persuasion work of your sales letter. The image shows the gap needed to close an online sale – The Hi to Buy Gap: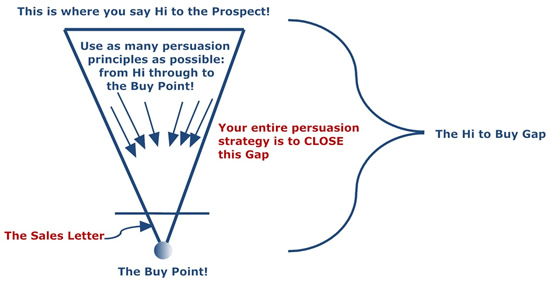 Your persuasion process must begin at the "Hi" Point – when you first meet your online prospect and say "Hi".
Then, you must use every possible avenue to state your persuasion message – in blogs, videos, web content, social networks, and email campaigns. Then last of all – you complete the sales process in your sales letter or your verbal sales pitch.
Many online marketers use the sales letter to make their whole case – and that's why conversion rates on online sales letters are so low!
To create an effective sales process, you need to ask yourself, "what do my prospects believe now, and what do they need to believe in order to buy?"
Assuming your product is a good match for the prospect, most of the mindset shift will be based on trust issues.
The important factors that DRIVE online sales are trust, loyalty, perception of authority / expertise, and a number of other persuasion principles. See: How to Use Persuasion To Sell Online.
Where the sales letter obviously has a sales focus there's very little time to build trust in a setting where the seller is going for broke to get the sale.
The more the seller puts on the hard sell pressure, the more prospects raise objections and back away, because trust has not been established.
Trust develops gradually as the buyer's first impression of you deepens. However, trust is not in and of itself a success progenitor – you must also persuade your prospect to buy!