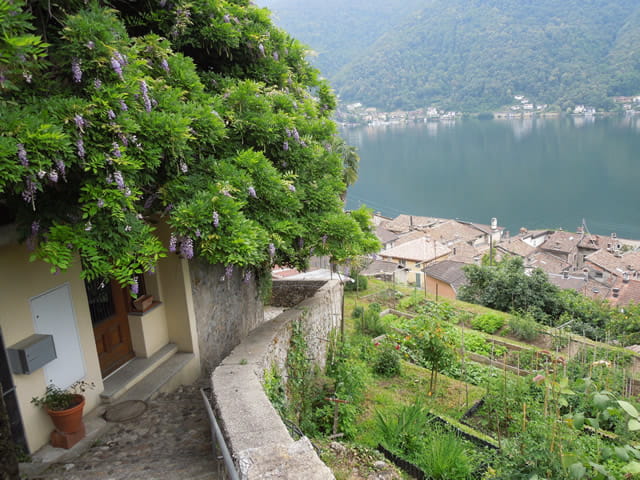 In this blog I look at PPC Marketing and how the "Direct from Ad to Opt-in page" model works.
Today's photo is a terraced garden. You find little gardens in almost every available space around the lake.
…..
The next image shows a common PPC search marketing model - the PPC ad clicks to an eMail opt-in page rather than direct to a Sales Letter.
When the prospect completes the opt-in he or she is then moved direct to a Sales Letter: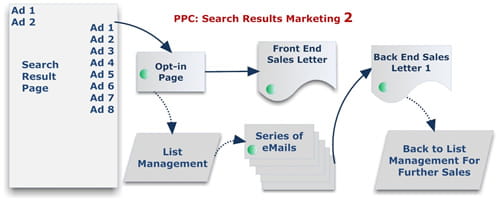 This is a very common model for PPC marketers.
The ad links to a Landing Page on which there is an opt-in form. If the prospect fills out the form then he or she is placed on an eMail Marketing List for receiving eMail Autoresponders. See generally The Sales Process Back End.
After filling in the opt-in form the prospect is sent direct to a sales letter.
From a persuasion perspective this model is difficult to make a sale. It takes time to build up trust between the buyer and seller:
"I have found that my backend sales are so much more profitable than frontend (first) sales. This is because my existing customers buy more easily than "cold" prospects who have never bought from me before.
Wouldn't it be great if you could set things up BEFORE the first sale so that prospects feel the same positive feelings towards you that existing customers do?
Well, you can – and it's all the more powerful because most marketers are not doing it, and don't even know how. Basically it comes down to one equation:
Relationships = Sales
The difference between selling to someone you have a relationship with vs. someone you don't - is dramatic.
You can shift the prospect mindset before the sale so that by the time they buy, they've gone from seeing you as nobody they've ever heard of - to a trusted authority who has their best interests at heart.
Once this mindset shift is made, sales follow naturally."
And also:
"So, persuasion begins in search engine and social network content – then flows through into the eMails that you send out to your prospects. It must be a slow and well thought through process. Don't start your sales messages immediately your prospect opts-in to your list.
Take your time and build the relationships – then give out the sales message. It has to be a "natural" process – not forced. It has to flow in a logical way.
Yes, it is time consuming and difficult. But remember this, once you have set up your content > sales process it's pretty much automated. See Sales Force Automation and "The Direct Marketers System" for an example of the management issues you need to address."
See also: The Sales Pitch.
Some PPC practitioners dispense with the opt-in page and take the sales prospect direct to a Sales Letter. This is not a good model – it is often pursued by PPC amateurs.
If you ARE going to use this type of model then at least consider alternative ways to making the model work: See – PPC Sales Automation and subsequent articles.
See also PPC List building.
Next blog: From PPC Ad To Incentive
...