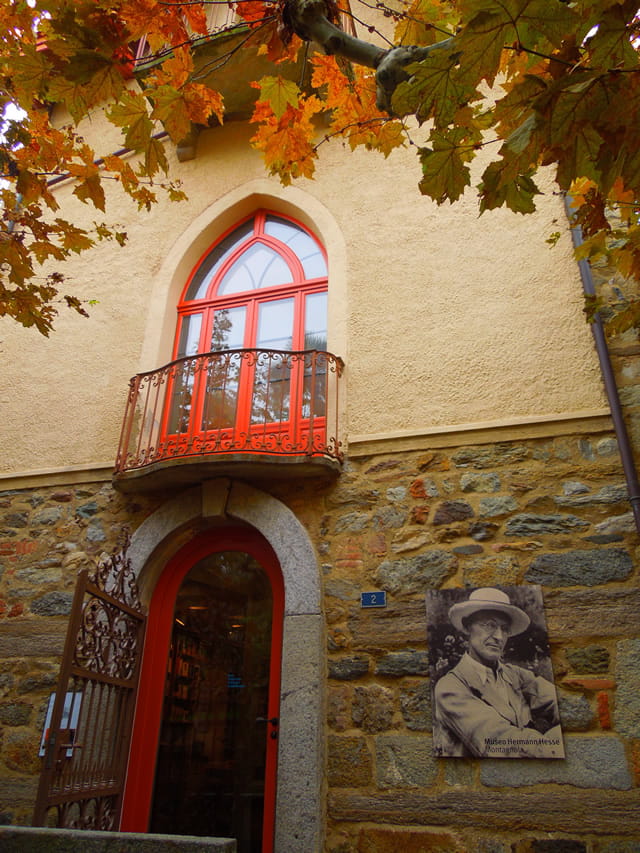 Today's photo is the entrance to the Hermann Hesse museum in Montagnola. His work space balcony over looks a pedestrian walkway. The museum is run by very dedicated staff who know a lot about the writer. Montagnola is a mountain 'suburb' of Lugano.
......
There are many ways you can market online. In this series of blogs I present five core online marketing methods:
Educative Content Marketing

Social Media Marketing

Pay-per-Click Marketing (PPC)

Affiliate Marketing

Public Relations (PR) Marketing
All the eMarketing methods shown are predicated on you setting up an eMail autoresponder system. Please see: How eMail Marketing Works.
Persuasionworks integrated business and marketing software includes an eMail Marketing System.
Educative Content Marketing
The image below gives an indication as to how you market using your educative content web site:

The image explanation:
Create educative content on your web site;

Invite prospects to download a free report or white paper which is of high value and upon which you

state

a value – such as $49;
The report leads to an opt-in offer or page; (Optionally, obtain the opt-in

before

delivering the Report or White Paper)

The prospect then is segmented and administered through your eMail List Management; (On segmentation see: Market Segmentation or preferably the whole section: Why you Must Survey);

The prospect is taken through the marketing and persuasion process;

The prospect is eventually sent to a Sales Letter;

f the prospect buys he or she is allocated to the next product sales stream;

If the prospect does not buy he or she is allocated to an appropriate sales stream. – See

the series of articles

: Sales Funnel: Setting Up an Online Sales Process.
The green dots represent persuasion points. For 'persuasion points' generally see the series of articles: SEO Strategy: Buyer Persuasion Points.
Long-Tail Keywords
Remember a great deal of traffic will arrive from long-tail keywords. For keyword research see: How to Find and Use Keyword Research to Improve Your SEO.
When you create first-rate content such as blog posts, articles, and videos and post them to your educative content site - you:
Deepen relationships with your prospects and customers;

increase familiarity - an important sales persuasion component;

control the 'mindshare' of your prospects and customers who may otherwise go to your competition;

remind prospects of your unique benefits;

strengthen customer loyalty to you; and

increase customer willingness to buy from you – again and again.
All of these are important add-ons to your persuasion and sales process strategy.


My next blog: Social Media Marketing.
......