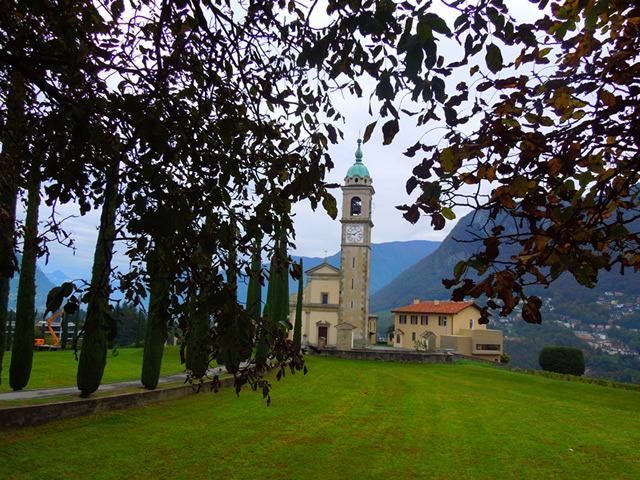 ......
Today's photo is the Church of San Abbondio in Montagnola where Hermann Hesse, the writer, is buried.
......
Over the years, I have been contacted by many people wanting to start an online business. It's often a vague idea in their minds. But more often than not, the idea does not come to fruition.
Why Not?
Mostly it's FEAR of the unknown.
And I have to admit that most people who seek answers by searching online are immediately accosted by a plethora of 'direct marketing' practitioners. These are the guys who in exchange for your email address send you a free ebook on some subject or another.
Thereafter you are endlessly confronted by their versions of "The Next Best Thing". It's simply an unbroken line of products that you are told you need to buy to succeed in your online.
If you have been trying to learn how internet marketing works I'm sure you've experienced the "revolving door" marketing DIRECTED AT prospective internet marketers.
I'll illustrate the norm with the "internet marketing" MARKET as an example.
A guru's email about the latest "new best thing" lands in your inbox. It promises to make you rich beyond your wildest dreams even if we are a high school dropout / 12 year old kid / can barely turn on a computer.
You buy the product - great value at only $197 …
Try as you might the promised millions don't happen. You lose motivation and push the product to the back of your virtual bookshelf,
And then another email pops up in your inbox with an even bigger and juicier claim to solve all your marketing problems. If you had trouble making Product X work and you need more help, don't worry.
Just sign up for the coaching club at only $97 per month...
Why is your inbox full of emails from 'affiliate pimp' every day, promoting the latest product? If online marketers and gurus really made money from all those products promoted by 'serial affiliates', why is it that there is still an audience hungry for new products?
The sheer volume of products and the daily promotions should tell you something is wrong. If most of the products really helped you or your business then you'd be too busy running your business to worry about the latest launch.
That's not to say you should not buy any IM products – it's just that the sheer volume of promotions points to most of the products being ineffective!
The Next Best Thing Vortex
The next image shows you the most common model used by gurus and other internet marketers directed at other internet marketers. This model is preferred, used, and recommended by guru after guru and biz-op merchant: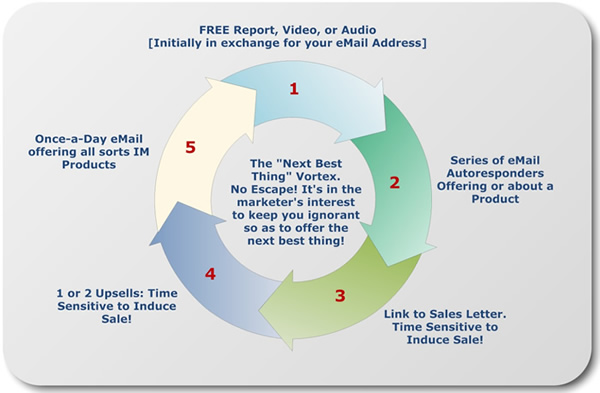 Why is it recommended by the 'gurus'? Because they simply don't know any other way! They are too afraid of search engine optimization – too busy to create two-way social networks.
Their entire focus is on producing a constant stream of "flavor of the month" eBusiness tactics.
Because online marketers are confused about what really makes a successful eBusiness, and particularly the technical aspects of online marketing, they are vulnerable to this guru inspired dead-end information.
I firmly believe that marketers who want to build real, long-lived internet businesses will be much more successful if they tune out all the shiny new distractions that constantly land in their email inbox.
There is anecdotal evidence that the typical internet marketer is on at least a dozen email lists! No one can possibly act on all those ideas. If you've been trying to start an eBusiness and are not making much headway – you're probably in the clutches of a guru or two who are happy to continue MISMANAGING you!
Most of the techniques being promoted are not worth learning in the first place.
Many of them are short-lived tactics. They don't help you build an asset, because these tactics are usually very vulnerable to industry shifts - like Google coming out with a new spam penalization algorithm.
This means your 'business'can be wiped out overnight and you have to start over from scratch. I've seen this type of product offered again and again!
Gurus and biz-op merchants can say basically whatever they please, pass it off as good marketing and business advice, and get away with it.
The floods of new information have a lot more to do with feeding marketers dreams than really offering a viable way to make a living online.
The constant torrent of new tactics, should alert you to the fact that the ones that hit your in box PREVIOUSLY didn't work all that well.
There is very little transparency in the process. What you need to do to get yourself out of this endless spin cycleis to identify the core drivers of internet success that don't change, and build your business on them!
Another type of guru says: "I've made millions – just copy what I do and YOU'LL make millions!" Often the guru provides "proof" of success – perhaps a Clickbank sales screenshot or a success graph of some kind.
This is a very common way of marketing eBooks, software, membership sites – and many internet marketers buy into this.
You CANNOT copy a guru's business model. Every online business is unique - with a unique set of products and circumstances.
The Next Best Thing Vortex creates relationships that benefit the biz-op merchant and eventually recipients of this type of marketing wise up and stop buying.
Don't let you marketing relationships fall into this trap. OK?
In the next blog I am going to discuss the principle of "Deliberate Practice". It's a way to show those who simply CAN'T get started that it's not all that difficult after all!