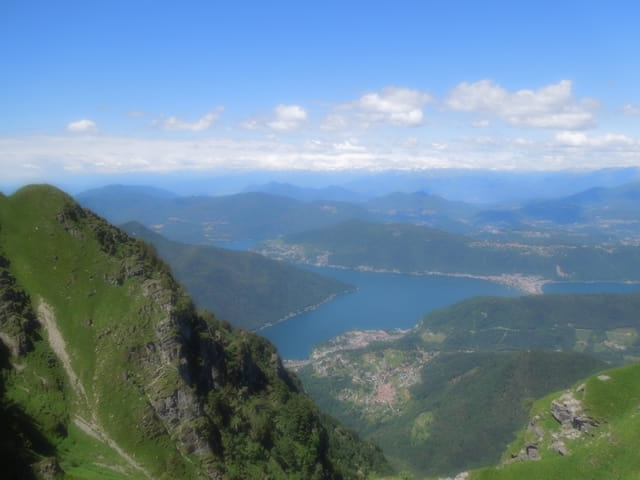 Mountain walks overlooking the Lake of Lugano in Summer.
......
Introduction
Of the five top digital marketing models Pay-per-Click (PPC) is the most powerful and least expensive to quickly bring in leads and sales.
Over the last few years, the search engines have made major algorithm changes in their quest for relevance. See: The Relevancy Regulators.
For ranking purposes: organic rankings, social networking, and PPC were quite separate processes. Now, all three are interdependent.
In addition, the vast Online Media also contributes to the synergies: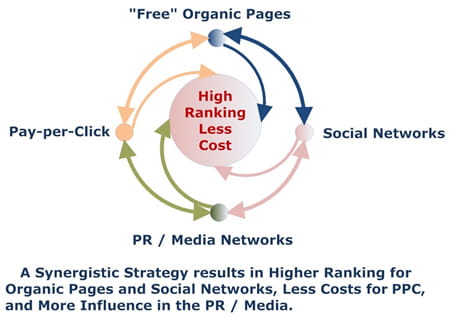 Synergy means getting a greater result from the whole than each of the parts acting separately. When you design your marketing strategy to work in all four major traffic channels together, you take advantage of the search engine new synergistic algorithms.
You'll achieve bigger and better results than if you only used just one of them.
Thus, in order to win the relevancy wars follow the rules of each of the requisite media and you'll gain prominent positions in the search listings and social networks and lower costs in PPC.
Using these four traffic sources together strengthens your position in each: social networks and the PR / Media are good for high organic rankings which in turn is good for your social and PR rankings, and for your PPC ads which cost less with higher relevance.
Each reinforces the other.
PPC Marketing
There are two general types of Pay-per-Click:
PPC in the Search Network

The search results are the ads placed on search engines that appear when a searcher types in a search term. This is an excellent medium to bring in new leads and create sales relationships.


PPC in the Display Network

Dsplay network ads appear on content pages of websites that have a commercial relationship with Google or other search engines.



If you have an AdWords account you should note that Search Result Marketing is very different to Display Marketing

.

Your bidding and ad strategies are markedly different.



Google will place your Search Results Marketing bids in the Display Network so you should ensure the latter is switched off when bidding in the Search Results. But of course as I will show later the Display Network is very effective to bring in new leads too.
PPC: Search Results Marketing
PPC Marketing is not for the faint-hearted. There are many variations of Pay-per-Click marketing. You need to become very familiar with PPC providers such as Google AdWords and of course you must also continuously test all your PPC ideas and marketing.
Test in AdWords first because it has better tracking, then roll out to other PPC networks.
For best results - PPC Management Software comes as part of the Persuasionworks system.
We also provide PPC Management as part of our services.
Integrating your marketing channels produces dramatically improved results. Please review this image: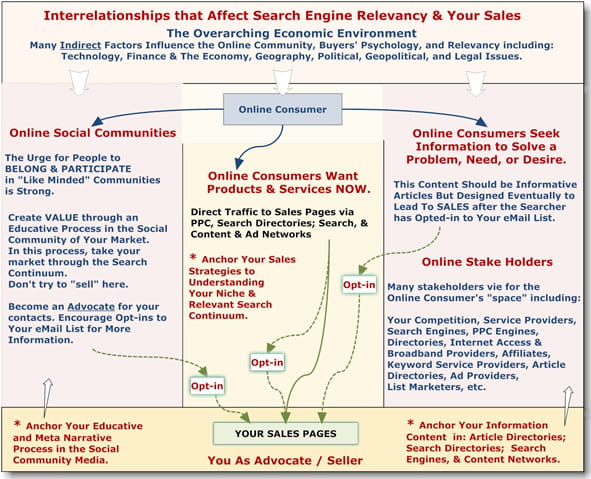 The image shows the actions you can take to combine your social, educative content, and PPC marketing to move searchers towards your sales pages.
Relevancy is determined by your keyword research.
Make your PPC ads and the subsequent landing page RELEVANT. This is the secret to bringing down your PPC costs.
Relevancy must be contiguous. That is, the PPC ads must be:
relevant to searcher requirements,


the landing page or sales letter must be relevant to the ad, and


the landing page or sales letter pages should contain links to some relevant content.
All these combine to create PPC relevancy in Google's eyes. Focusing on consistency will also maintain strong scent for prospects. In doing so, you'll lessen your PPC costs considerably.
The next few blogs provide graphic examples of how PPC marketing works.
Bidding strategies are not covered here as the subject is very large.
In any event our PPC Management Software is one of the best PPC bidding management systems on the market. The software should save you a heap of tears and expensive learning!
Next Blog: Direct From PPC Ads to Sales Letter.
...