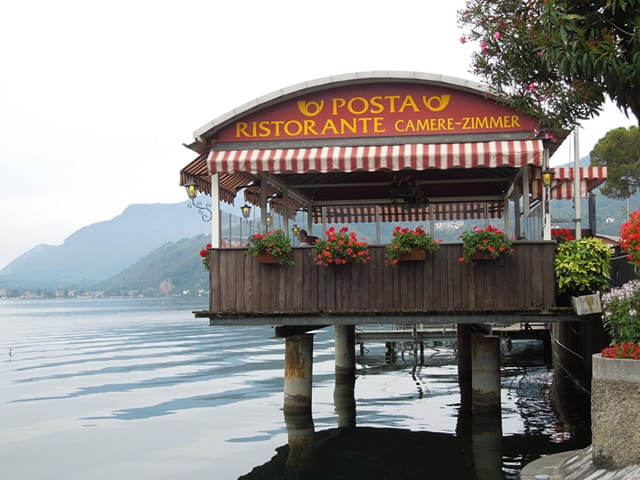 Today's pic is the Ristorante Posta in Morcote on the Lake of Lugano.
......
Social Media Marketing fundamentally works in a similar manner to educative content marketing - see yesterday's blog. However it's been quite difficult for businesses to work out how best to commercially use social media and obtain a Return On Investment (ROI) in the medium.
The latter is important because more and more businesses realize they must have some form of presence in the social media space.
Social media marketing must do at least four things for a business:
Get a Return on Investment (ROI),

Rapidly respond to negative social comments. Corporate reputation that has taken years to build can quickly plummet when online negative commentary goes viral,

Manage the vast number of social mentions such as Facebook wall comments and tweets made about a company, marketplace, and competitors,

Help discover the "Total Universe" of a marketplace.
Software is the best way - actually the ONLY way - to achieve these goals. Persuasionworks' integrated Social Media software helps businesses attain all four goals - plus more.
Social Network sources include blogs and other media at various social sites around the internet. Social networks are an important way to engage with prospects and shape their views about your market.
You can shape customer perceptions from pre-buyers (those who are researching a market) to existing customers with whom you want to deepen your relationships.
Shaping opinions in the pre-buying stage was tough before the internet became a commercial entity. Marketers did not have very much 'influence' in the buying cycle until a prospect was actually ready to buy – at which time their opinions often were already well formed.
Now you can shape opinions throughout the buying cycle - see Buyer Persuasion Points: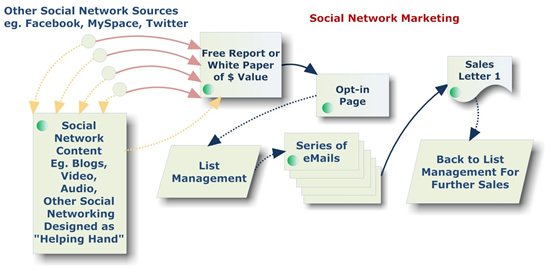 The image explained:
Create educative content via blogs, videos, audios on

both

your own web site and on other social networks;
Invite prospects to download a free report or white paper which is of high value and upon which you

state

a value – such as $49;
The report leads to an opt-in offer or page; (Optionally, obtain the opt-in

before

delivering the Report or White Paper);
The prospect then is segmented and administered through your eMail List Management; (On segmentation see: Prospect Segmentation. The Persuasionworks system includes an integrated eMail Marketer;

The prospect is taken through the marketing and persuasion process;

The prospect is eventually sent to a Sales Letter or there is a verbal sales pitch;

If the prospect buys he or she is allocated to the next product sales stream;

If the prospect does not buy he or she is allocated to an appropriate sales stream. – See generally: The Direct Marketer's System.
The green dots represent persuasion points.
In the next blog I'll discuss how to become a successful social marketer.
...